South India Self Drive Tour (15D/14N)
Vacation Style

Holiday Type

Min Group Size

Medium Group
All about the South India Self Drive Tour (15D/14N).
Our South India Self drive tour begins with us driving to Hampi, a UNESCO World Heritage site containing a group of historic monuments. Hampi is famous for its ruins belonging to the erstwhile medieval Hindu kingdom of Vijaynagar. It is a World Heritage site. The temples of Hampi, its monolithic sculptures and monuments, attract the traveler because of their excellent workmanship. The Hindu style of architecture found at Hampi reflects the splendor of the Vijaynagar Empire. The rugged landscape adds to the historic ambiance of this site.
Agumbe is the idyllic hill station and an important part of 90s TV culture. It was here that a part of the famous TV series, Malgudi Days was shot. Swami's house is located in Agume and has managed to stand tall, even though decades have gone by. Agumbe is one of two rainforest regions in India and a King Cobra habitat. The eco-sensitive town is home to numerous wild animals, amphibians, flora, and fauna. A trip to Agumbe will take you closer to nature than ever before.
Coorg is the former name of Kodagu, a district in the state of Karnataka. Before 1956, it was an independent state but was merged into the state of Mysore soon after. The locals are known as Kodavas and are traditionally land-owning agriculturists with martial customs. It is interesting to note that the Kodavas are the only people in India permitted to carry firearms without a license!!
Coorg is now a popular tourist getaway destination that is dotted with massive coffee and spice plantations, the Western Ghats, and beautiful homestays in scenic settings. The most popular part of Coorg is the Madikeri town that sees the most amount of tourist footfalls owing to the numerous accommodation options available there.
Our South India self drive tour takes you through the best places to see in Coorg, experiencing its culture and indulging in its colorful cuisine. The South India self drive tour is delivered by our experienced team brings to you the best stays and the most interesting sights to see.
Ooty or the Queen of the Hills is a popular hill station located in the eco-sensitive Nilgiri hills. Originally occupied by the Toda tribes, Ooty came under the rule of East India Company in the 18th century and developed as the hub of tourism and tea estates over the years. Right next to Ooty is the sleepy, picturesque town of Coonoor.
Coonoor is now best known for its tea tourism, panoramic views of the Western Ghats, and pleasant climate. Our South India self drive tour will take you to the most scenic or culturally rich homestays where you can dwell in the historic past of the town. Our experienced guides have spent quite a lot of time in Coonoor and know the best spots to visit and deliver the most memorable Coonoor tours.
Valparai is a serene destination with stunning, lush green tea estates and pristine waterfalls. Kodaikanal is another immensely popular hill town located in Tamil Nadu about 5 hours from Munnar. The name translates to 'Gift of the forest' and the destination is blessed with granite cliffs, forested valleys, lakes, waterfalls, grassy hills, and colonial architecture.
Kolli hills is an upcoming hill station located near Namakkal in Tamil Nadu. The destination shot to prominence due to the road that leads to it. 72 head-spinning hairpin bends – the highest for any road in India! The drive will have us travel through this mind-boggling stretch of road before we finally reach the top and enjoy the green surroundings.
Sathyamangalam was once home to the notorious sandalwood smuggler, Veerappan and the forest remained close to the public until recently. Located 220 kms from Bangalore is a beautiful camping site located on the fringes of the Sathyamangalam Tiger Reserve. Explore the forest and visit a Tibetan monastery as we explore parts of rural Tamil Nadu.
Total kilometers for this adventure ~ 2,200
Driving Days – 13
Road Conditions – Mix of highways, ghat roads, & off-road trails
Refund & Cancellation Process for the South India Self Drive Tour
5% of the Total Amount to be Deducted Towards GST on any Time Cancellation
5% of the Total Amount Paid on Website or Payment Gateway Link to be deducted as Payment Gateway Charges
90% of the Total Amount to be Refunded if Cancelled on or Before 30-Apr-2021 9Aug trip) & 30-June-2021 (Oct trip)
50% of the Total Amount to be Refunded if Cancelled on or Before 30-May-2021 (Aug trip) & 30-July-2021 (Oct trip)
No Refunds if Cancelled on or After 15-Jun-2021 (Aug trip) & 15-Aug-2021 (Oct trip)
No Show by the Traveller would Lead in No Refunds
Refunds would be Processed and Settled within 45-60 Days from the Date of Cancellation
Cancellation Due to any Force Majeure or Natural Calamity would lead to Rescheduling of the South India self drive tour
**All tariffs are on a per-person basis**
The tour package inclusions and exclusions at a glance
What is included in this tour?
Items that are included in the cost of tour price.
Hotel stay on twin sharing basis
Deluxe camp stay on twin sharing basis
Breakfast, Lunch, & Dinner on all days
Morning tea, afternoon tea, evening tea, and light snacks
Pick up & drop to and from Bangalore airport/railway station to the hotel
Lead SUV with Moto Overlanders tour leader & tour manager
Emergency food supplies, first aid kit in the lead vehicle
Limited stock of water, snacks, etc
Tire inflator and puncture repair kit in the lead vehicle
Route planning and trip management
Moto Overlanders goodies
Assistance in renting self drive vehicles in Bangalore
What is not included in this tour?
Items that are not included in the cost of tour price.
Your flights/trains to and from Bangalore
Vehicle rentals, fuel, tolls, parking fee, and other vehicle-related costs
Any additional food item not mentioned in the Includes section
Single room accommodations. Room upgrades
Any kinds of insurance
5% GST
Alcohol, cigarettes, and personal items
Early check-in or late checkout at the hotels
Traffic fines due to wrong driving
Fees for activities
Liability for change in itinerary due to reasons beyond our control like change in flight and train schedule; cancellation of flights/trains, political disturbances, natural phenomena, etc.
Day 1

Arrive in Bangalore

Welcome to the IT hub of India, Bengaluru! If you flying into Bengaluru, then you will be picked up from the airport and dropped at your hotel in the city. Once you check-in, you will need to complete formalities for picking up your rental SUV.

If you are from Bengaluru, then we will all assemble at a meeting point for a pre-trip briefing along with all the travelers and the Moto Overlanders team. We discuss the plan for the South India expedition and the timings for day 2.

Day 2

Bangalore to Hampi (350 kms, 7 hours)

The first day of our drive will take us to the UNESCO world heritage sites in Hampi located 350 kms from Bangalore. The drive is fairly easy as we travel through National and State highways. Near Hampi, we will encounter some dirt trails and broken roads before we enter the gorgeous town!

Lunch will be served on the way, at a highway restaurant. This is your chance to taste some yummy local food! We plan to reach Hampi by evening and post that check into our hotel. Since it's the first day of the tour, we use this chance to get to know the group and you can interact with the Moto Overlanders team as well.

Day 3

Explore Hampi

Wake up to an early breakfast as we have a long day ahead! The expedition will take us into the heart of Hampi, exploring the magnificent sites of the fallen empire. The itinerary for the day includes sites like the Virupaksha Temple, Vijaya Vittala temple, Lotus Mahal, Hampi Bazaar, Hippie Island, Queen's Bath, Elephant Stables, Hazara Rama Temple, Gagan Mahal, and a fun coracle ride on the Tungabhadra river!

That's a lot to cover in one day and we are going to be pretty tired by sundown! In the evening, we all catch up in our hotels after freshening up to share how the experience has been and to discuss the plan for tomorrow's drive.

Day 4

Hampi to Agumbe (300 kms, 7 hours)

It's a different day and a totally different destination. From the sun-baked landscapes of Hampi, we drive towards one of the greenest parts of India – the Agumbe rainforest! Drive through the quaint hamlets in rural Karnataka as we make our way towards the coastal region. Agumbe sits pretty in the gorgeous Western Ghats and is home to the tales of the Malgudi Days!

Since Agumbe isn't a tourist spot, we will be put up in either a local homestay that offers an experiential stay or at a wild camping site located deep inside the jungles of Agumbe! This camping experience is as wild as it gets and nothing can match the feeling of being away from total civilization! But we will have a cook to make some authentic local food, and the opportunity to listen to some ghost stories!!

Day 5

Explore Agumbe & Udupi

Sounds of the jungle are some of the sweetest sounds you'll ever hear and staying in Agumbe's untouched forests is an amazing experience. Get up to a fresh cup of coffee and a hearty breakfast. Because after that, we drive down some hairpin bends onto the coastal roads to head to the beach!

The beach trip will have us driving right next to the Arabian Sea as we visit places like Malpe beach and Maravanthe. The whole day will be spent on these beach destinations and if you want you can try out some beach roading as well!

Day 6

Agumbe to Coorg (220 kms, 6 hrs)

From Into the wild, we drive towards the coffee capital of India, Coorg! Set amidst verdant coffee estates, Coorg is the ultimate weekend destination for travelers from Bangalore. It's high on experiences – delicious Coorgi food, adventurous off-roading courses and a town replete with cultures from around the world.

The drive goes through the backroads in the Western Ghats through lesser-known destinations like Bantwal, Puttur, Mudbidri, and Sulia before we touch base in Coorg. The scenic roads will present many opportunities for photo ops and we stop on the way to have some fresh, hot coffee as well.

Day 7

Explore Coorg with an Off-road trail

Fill up on breakfast as we first take a plantation walk to see coffee is grown. After the walking tour, we get into our vehicles and head to Bylacuppe, one of the largest Tibetan settlements in the world! The drive is short and we reach the monastery in the morning. The monastery will take a couple of hours to explore after which we indulge in some authentic Tibetan food near Bylacuppe!

From Bylacuppe, we drive to the hills of Mandalpatti, an off-roading site that will test your driving skills. Mandalpatti is a gorgeous hilltop location presenting panoramic views of Coorg and driving through the rocky terrain will be an adventure like no other!

Day 8

Coorg to Coonoor (250 kms, 8 hrs)

South India is famous not only for its aromas of fresh coffee but top-notch quality tea as well. And one such tea destination is Coonoor, located in the Nilgiri Hills. From the verdant coffee estates, we drive towards the lush green tea gardens in Ooty and Coonoor!

The drive will take us through 3 states – Karnataka, Kerala, and Tamil Nadu as we travel through popular destinations like Virajpet, Wayanad, and Ooty to reach Coonoor. Lunch will be served on the way and we should reach our hotels by evening.

Day 9

Coonoor to Valparai (200 kms, 6 hrs)

Waking up early, we can take a walk around our homestay or go for a quick drive around Coonoor and Lovedale towns! Driving close to the toy train tracks is a lovely experience and something not to be missed! After breakfast, the drive will take us to another tea destination – Valparai. This is an offbeat destination that has not yet been commercialized.

We go down the Nilgiri hills, towards the highways in Tamil Nadu, and then up the ghats once again to reach Valparai. It's a picture-perfect destination with manicured tea estates, gushing waterfalls, and pleasant weather all year round. Drive slow in the ghats as we just might see some wildlife like Lion-tailed Macaques, the Nilgiri Tahr, Leopards, Tigers, and the mighty Asian Elephant. By sundown, we would have checked into our luxury resort and enjoy some needed rest and relaxation.

Day 10

Explore Valparai

Wake up to the sounds of birds or maybe the sound of a wild boar digging around for food! Blessed with an abundance of wildlife and nature, Valparai is a hidden gem in the Western Ghats. The beautiful hill station shares its boundary with Anamalai Tiger Reserve, Parambikulam Tiger Reserve, Eravikulam National Park, and Vazhachal Forest Division and as a result, it's a haven for animals such as elephants, wild boars, mountain goats, black monkeys, and leopards.

Today, we drive around the magnificent estates of Valparai and visiting places like the Loam's viewpoint, Monkey Falls, Birla Falls, Tiger valley, and Chinna Kallar which is one of the wettest places in the world!

Day 11

Valparai to Kolli Hills (260 kms, 6 hrs)

Kolli Hills is a one of a kind destination that you won't find anywhere in India! So what's special about it? Located near Namakkal town in Tamil Nadu, Kolli Hills can be reached via a ghat drive that has a ming boggling 72 hairpin bends! yes, you read that right!

From the base to the top of the hill is a winding stretch of road that takes you on a psychedelic trip. Well not really, but it's known to get people's heads spinning for a while. Kolli hills is an upcoming tourist spot with lush greenery, small hamlets, and lots of farming areas. Lunch will be served when we reach our hotel as we don't recommend eating before the ghat section! Or we eat much before we hit the hairpin bends! After some rest, we drive around the hill station and then enjoy some bonfire at night!

Day 12

Kolli Hills to Sathyamangalam Forest (200 kms, 5 hrs)

And once again it's time to go through the maze of hairpin bends and this time downhill! The experience will be dizzying but amazing since you get breathtaking views of the landscape below. After all, how often do you get to drive on such roads??

From the hills of Tamil Nadu, we drive down into the flat lands and head towards the infamous Sathyamangalam forest. Once home to Veerappan, the forest is now open to the general public. We make way through some rough rural roads, another set of winding roads and then to a beautiful campsite located on the fringes of the Tiger Reserve.

Day 13

Relax in Sathyamangalam

This is the last destination of our South India expedition and we can do two things-explore the off-road trails around the campsite or relax a bit! Not very far from the campsite is a Tibetan settlement situated under the foothills of BR Hills. The location is quite picturesque and drive is really beautiful. Passing through villages, the roads lead straight towards the hills before revealing a set of Tibetan structures on the way.

We take some time and explore the region, one of the biggest TIbetan settlements in India and then head back to our campsite for some BBQ, bonfire and fun!

Day 14

Sathyamangalam to Bangalore (200 kms, 5 hrs)

It's never easy to say goodbye, but this is the last driving day of the South India expedition! We are sure the journey was fun, a lot of adventure and you are going back with tons of happy memories, phones full of pictures, and a few new friends!

Our last day's journey isn't really over as we check out of the campsite and head to Shivsamudra falls located on the way. This is one of the highest falls in Karnataka and not to be missed out on! The fall tour will take about an hour or so, and we will have lunch in one of the restaurants near Shivsamudra.

The drive is beautiful as it goes past numerous water bodies, lakes, and rivers. Driving on Kanakpura road, we enter Bangalore through its South section and check into your hotels. If you have taken rental vehicles, they will be dropped off at their locations. We all catch up for a farewell drink and retire for the day.

Day 15

Depart from Bangalore

This is the end of our South India Expedition and you will be dropped at the airport or railway station for your journey back to your home cities! Hope you had a good time. If you are still looking for more check out our North East India Expedition as well.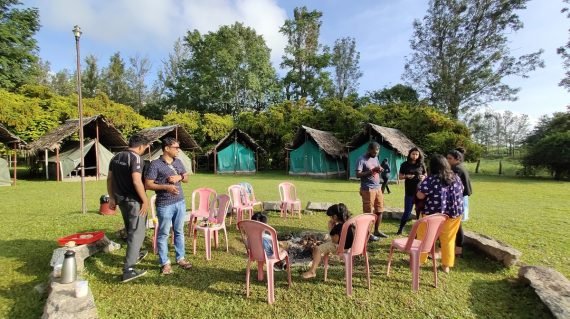 Click on the below menu to see the list of questions
Every tour is personally delivered by both our trip leaders, who will be your tour guides and trip leaders respectively. Here is an intro to our team
Yes. In Bangalore, we can help you connect with vehicle rental vendors and you are free to select a vehicle of your choice.
We recommend vehicles that have high ground clearance and a minimum engine capacity of at least 1,200 cc. Since you will drive across off-road terrains, the car should have the capacity to take on such roads, carry the weight of passengers and luggage, etc. Ideally, something equal to or better than a mini SUV will do the job.
We encourage our guests to experience the local cuisines of the destinations we travel to. In remote areas, we might not get options for eating different cuisines. During our South India expedition, we will ensure you get wholesome, tasty, and hygienic food wherever we go. If you are from outside India, here's a guide to get you going.
Roads throughout South India are in excellent condition. However, in the mountains and Ghats, we might drive through broken tarmac and dirt trails to reach out hotels.
To make our tours eco-friendly, we do not encourage using packaged drinking water. We recommend that you carry your own water bottles and refill them in every hotel we stay in. However, we will keep a supply of water with us in case of emergencies.
Our South India expedition is designed to blend in homestays, hotels, camping sites, and resorts in each destination to balance comfort with the local experiences. All your accommodations will be clean, hygienic, comfortable, and safe.
While driving, we should have access to public toilets/hotel toilets. But there will instances where there are none and you will have to answer nature's call in nature.
We carry a basic first aid box with us and encourage you to carry your own medicines as well. In case of an emergency, we take you to the closest available medical center. We would also request you to share any pre-existing medical conditions and allergies if any with us
Here is the list of all documents you will need for the trip
Original Aadhar card
Original driver's license
10 passport size photographs
Yes, but these meetings are not necessarily in person. Before the tour, we will get in touch with you through email/phone or face to face sessions, and brief you about things like what to expect during the trip, basic ground rules, things to pack, etc.
| Package | Trip Status | Price | |
| --- | --- | --- | --- |
| October 3, 2021 - October 17, 2021 | | | |
| November 14, 2021 - November 28, 2021 | | | |
| December 12, 2021 - December 26, 2021 | | | |