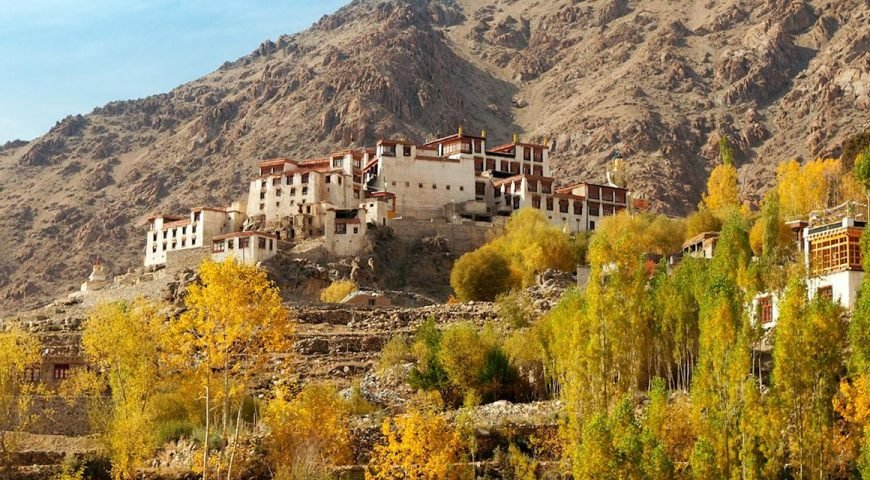 Alchi Monastery Ladakh
Alchi, at an altitude of 3,120 meters, has one of the oldest temples in the Ladakh region. It is situated by the banks of the Indus river on the way from Leh to Kargil at about 70 kms from Leh. It is mainly known for its magnificent and well-preserved 11th or 12th-century wall paintings, all in Indo-Himalayan style.
About Alchi Monastery
Alchi, unlike other monasteries in the region, is located on flat land rather than up a steep hill or mountain. According to various researchers, this ancient monastery was constructed by Guru Rinchen Zangpo between 958 and 1055 AD.
The monastery is huge and is divided into three shines à Sum Tsek, Dukhang, & Temple of Manjushri.
One of the most beautiful monuments of the monastery complex, the main purpose of building Sum Tsek is still unclear. It is three stories tall & constructed using natural stone and loam. The building has beautiful woodwork columns, walls, facades, clay paintings, & images that were created by Kashmiri artists.
Dukhang
Dukhang is the monastery's assembly hall and is used by the monks as a prayer room. The authorities have retained the original wooden door. You can see six different mandalas drawn on the walls as a tribute to Panch Tathagatas.
Temple of Manjushri
The temple, also known as Jampe Lhakhang, was constructed in 1225 AD. Unfortunately, the temple isn't well preserved but you can still see the original elaborately-decorated wooden door. Four Manjushri images are painted on four walls of the temple in bright orange color.
Other places to visit in Alchi
Alchi is famous for its many temples and two of the main ones are Rinchen Lhakhang and Namnang Lhakhang. Rinchen Lhakhang is known for its paintings that were made by Kalden Sherab, the same person who built the temple. The other temple, Namnang Lhakhang has beautiful paintings of the five families of Buddha. Most of the paintings are of Vairocana Buddha, which is why the temple is also known as Vairocana Temple.
Where to Stay in Alchi Village
Most people prefer to visit Alchi Village on a day trip. That is you start from Leh early in the morning and visit Alchi while covering some other nearby places like Magnetic Hill, Gurudwara Patthar Sahib, and Indus Zanskar Rivers Confluence. But if you had some time in hand, we highly recommend staying for a night in Alchi.
Accommodation in Alchi Village is very basic and simple but will definitely be comfortable and warm enough. Alchi is at a lower altitude than Leh. To avoid altitude sickness, it can also be a great place to spend your first night after landing in Leh.
Best Time to Visit Alchi Monastery
If you are planning to visit the Alchi monastery then it is advised to visit between May to September. This is the right time to visit this jaw-dropping place. Alchi monastery remains open every day from 8:00 am – 01:00 pm and 02:00 pm – 06:00 pm. and there is no entry fee to enter the monastery. It takes 1 to 2 hours to visit the whole monastery.