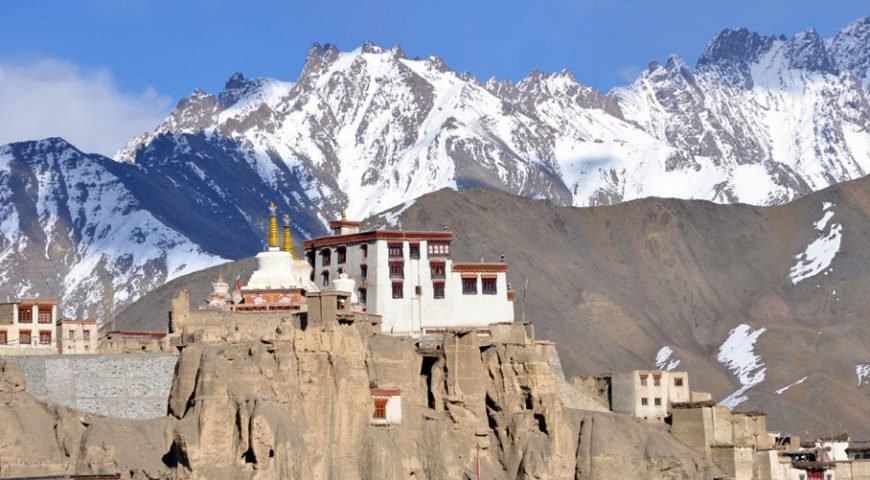 Lamayuru Monastery in Ladakh
One of the most recommended places to visit when you are driving along the Leh-Srinagar highway is the Lamayuru Monastery. Lamayuru is roughly 100 km before Leh, right after Fotu la, the highest pass on the Srinagar Leh highway. The roads on Fotu la are in excellent condition and it is a pleasure to drive through this pass. It is located at an altitude of about 11,500 ft.
Lamayuru is one of the largest and oldest gompas in Ladakh, with a population of around 150 resident monks. They have a medical laboratory up here where the monks churn out medicines from the local herbs. Travelers visit the monastery to learn spirituality and to spend some time in the beautiful location in the sacred aura. However, it also serves as a meditation center in Lamayuru. Lamayuru Trek takes one to the scenic location and peaceful environment of the monastery which is hypnotic.
History
Being the oldest monastery in the region, the Lamayuru Monastery has a great history. While it is also the largest existing gompa in Ladakh. It has many legends associated with it, one of which is that, in the past, housed up to 400 monks, many of which are now based in gompas in surrounding villages. The Drikung history states that the Indian scholar Naropa(956-1041) allegedly caused a lake that filled the valley to dry up and founded Lamayuru Monastery. This legend, of course, does not have any concrete proof associated with it and is only a story that has been told for ages.
Attractions

Lamayuru monastery is a collection of many shrines. Loaded with thangkas and wall-paintings, the monastery looks amazing. It also has an image of teaching Buddha, which is also known as Vairocana. The temple also has a small cave, which is named Norpa's cave. It is believed that this was the meditation place of Norpa. Another highlight of the temple is Kanshur, 108 volumes of the teachings by Buddha.
Festivals in Lamayuru Monastery
The monastery hosts the 2-day Yuru Kabgyat Festival, for which monks here start their preparations a long back. These are also known as the 'Mask Festival'. During these festivals, monks perform sacred mask dances for several hours. Participants from the upper as well as lower valley visit the monastery to mark their presence during the festival. Lamas from countries like Tibet, Japan, Korea, and China come here to attend this festival. It is a two-day festival celebrated in the 2nd month of the Tibetan lunar calendar.
How to reach Lamayuru

Lamayuru is situated on the road from Leh to Srinagar Highway. It is almost the midway between Kargil and Leh on NH1D. It is always a good idea to halt and enjoy the scenic beauty and ancient heritage of Lamayuru along with landscapes of the moon-land around Lamayuru. You can get around the scenic village of Lamayuru on foot as it is a small hamlet of handful of scattered houses.
Best time to visit Lamayuru Monastery

May to October is the best time to visit Lamayuru. Roads are clear during this time without snow. July/August is the month for Yuru Kabgyat Festival which is attended by Buddhists from all over the world.
Where to stay in Lamayuru

Many people choose to stay in Lamayuru for weeks and months, practicing yoga. There are various stay options in Lamayuru like Hotel Moonland, Siachen Guesthouse, Amchi Guesthouse, Shangrilla Guesthouse, etc.
So, head out and enjoy a bike ride to this beautiful and majestic landscape place also known as the MOONLAND OF LADAKH.